fnatic Wins WCG Sweden
BY Andrew Miesner / August 14, 2009
Over across the pond, the WCG Sweden Qualifier took place today with big names such as fnatic, SK Gaming, H2k Gaming, and Begrip in attendance. In a best-of-three bracket, fnatic looked to continue their dominant streak that they have been on so far this year. SK showed up with their new fifth player, Jim "zneel" Anderson, with hopes to finally overcome fnatic and break their shaky streak.
The semi-final between SK and H2k proved to be an interesting one where it went to the third map. This third map went to OT where H2k was victorious. It was disappointing for SK to say the least as H2k met fnatic in the final to see who would get their expenses to the WCG Grand Final paid for.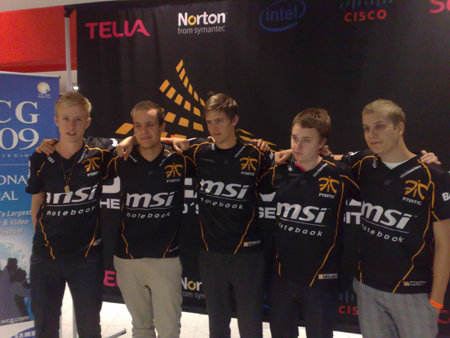 In the Grand Final, fnatic didn't seem to have any difficulty overcoming H2k as they finished the two maps quickly with scores of 16-9 and 16-8. fnatic will have their trip expenses covered while H2k has to pay their way to the Grand Finals in China later on this year. Congratulations to fnatic and H2k!
fnatic's Path to Victory:
>
Hardwire 2-0 (16-2, 16-1)
>
Begrip.swe 2-1 (19-17, 14-16, 16-12)
>
H2k Gaming 2-0 (16-9, 16-8)

Stay tuned to compLexityGaming.com for further updates on the road to WCG!