RAK: An Angel in Queens
BY Andrew Miesner / March 21, 2009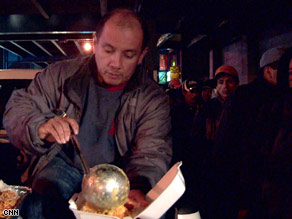 Tonight, when reading an article on CNN.com, we were struck by the generosity of one man in Queens, New York. Here's a snippet:
Sustaining this endeavor consumes most of his life. To his mother's dismay, his family's Woodhaven home is bursting with goods related to this work. An oversize freezer takes up most of the dining room, and the porch is lined with canned food and paper products.

Daily operations now run like a well-oiled machine. Munoz gets up around 5:00 a.m. to drive his bus route, and he calls home on his breaks to see how the cooking is going. When he gets home around 5:30 p.m. — often stopping to pick up food donations — he helps pack up meals before heading out to "his corner" in Jackson Heights.
This type of this is exactly what RAK was founded for in early 2008. We are making a call to the compLexity Community to support this effort. We encourage you to donate what you can via his website HERE.
We don't have a lot to offer you in way of a thank you, but here's what we'll do: this coming week we're going to have a coL Pub Night with coL.cs. If you donate $10 or more to this effort, take a SS and email it to [email protected]. You will get auto-entry into our next pub night for your generosity. Even if you can't afford $10, we encourage you to donate what you can.
Don't just sit there. Make a difference with your life.
RAK: Random Acts of Kindness.