SK and Soju spar over payment issues
BY Andrew Miesner / April 7, 2009
A controversy between SK Gaming and former player Seong Deok Lee (aka SoJu) has questions of player salary payments in the news in Europe. SoJu, the Korean Warcraft 3 star, is claiming he is owed for seven months of unpaid salary. Rakaka.se first reported SoJu's public statements about the status of his payments.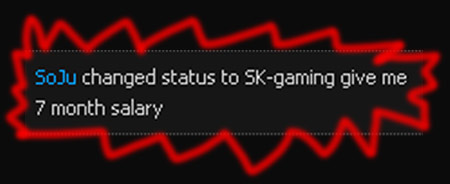 SoJu's claims were answered by Alexander "TheSlash" Mueller, SK's Managing Director, in a blog post that stated in part:
First of all, SK Gaming is far from a chrisis or crucial problems. We have a different approach than MYM had and we have been in business for more than 11 years now. Within this timeframe every player got every cent he was entitled to from SK Gaming, which was quite some money as you can imagine.

As a company, SK Gaming is planning with the budgets we actually earn with our partners and so far every budget for every single player was covered 100%. The same applies for SoJu, to mention the case we are discussing.

There was no year so far were each partner lived up to his commitments regarding payments and their timing, giving SK a hard time, though we always managed to avoid problems at that end of larger scale. Right now, more than 10% of the 2008 budget is still missing and you won't be surprised to learn that exactly this money is the problem that caused SoJu as an example to state what he did in his MSN status.
Readmore.eu suggests that part of the financial difficulty teams are encountering may be due to unpaid prize money by the now bankrupt ESWC and alleged nonpayment of large sums by ESL.
The issues might be sparked by a recent lack of prize money payouts at almost all major tournament organizers. Even ESL – hailed as one solid pillars of eSports in the past – admitted owing major sums to various organizations that won money through Intel Extreme Masters or other tournaments. And with ESWC filing for bankruptcy, the prizemoney won during last year's tournaments will most likely never be payed out.
Whatever the case may be, it's very apparent the global economic crisis is taking a toll on eSports around the world.
Sources: Readmore.eu, Rakaka