WoW Community Guide: Part 2
BY Andrew Miesner / January 31, 2009
By: JP McDaniel
A lot has happened since last week's post. SK-Gaming picked up not one, but two new WoW teams. It'll be interesting to see how these two teams perform in 2009. I suppose I can use this week discussing the players on each of the two teams.
SK.US consists of Vance 'Serennia' Phuoc, Ryan 'Realz' Masterson, and David 'Sck' Quick. I'm not going to go out on a limb and say these guys will be amazing on LAN – no one knows that. A majority of this doubt can be put on the fact that Serennia has had problems in the past with his teammates.
Serennia is probably one of the most well-known WoW players in the world (apart from maybe Neilyo, former SK.US player and teammate of Serennia). Most of this can be contributed to the fact that on LAN, he has had some memorable events. He's never won a tournament, but his ego is one of the biggest in the biz. Most notably the Swarm rage video (which I won't post – it doesn't help propel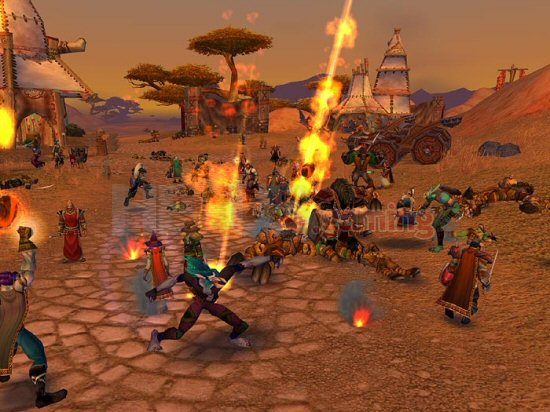 e-sports in any form, other than opening it up to be mocked) comes to mind, and a lot of people refer to this as Serennia proving that he's growing up. Before this, Serennia was usually the one doing all the yelling and screaming at tournaments. His online presence is another story altogether, one that I won't express my personal feelings on here. We'll just have to see how much he has matured at the first LAN event of 2009.
Oh, I also forgot to mention Serennia has played several classes at tournaments and online, and this year he will be playing the new class, Death Knight. He was the number one player in the world up until earlier this week when he was suspended for three days and had all of his teams reset due to account sharing.
What about his other teammates? Well, you have both a rookie and a veteran. Both have won tournaments though. Ryan 'Realz' Masterson's WoW career started at the last event in 2008, ESL Philadelphia. His team, Trade Chat Allstars, would win the tournament. ESL Philly did have a stigma attached to it (being that Patch 3.0 had just debuted, and changed the game immensely) but you can't discredit the tournament – a win is a win is a win. He plays the rogue class but has switched to hunter for 2009.
Last but not least you have David 'Sck' Quick, formerly of the powerhouse 2007 Team Pandemic. Sck is arguably one of the best paladins to ever grace the game. In 2008, during Season 2 and Season 3, Paladins were pretty much a joke so he took a backseat on the team. Now with Wrath of the Lich King out and Paladins on the top of the food chain so to speak, he'll be able to shine once again this time on a different team.
My biggest question, and one that I asked them directly on ArenaCast this week, is how these three 'alpha-nerds' can co-exist on the team. We'll just have to wait a couple months to find out.
I almost forgot – SK.Asia, also known as Council of Mages. Consisting of Kwang Rock "Kwana" Park, Hyuk Joon "Hyoga" Jang, and Eun "Jaywalker"
Chan, these guys represent the cream of the crop when it comes to South Korean WoW teams. They ran RMP in the 2008 season and preformed pretty well considering how that comp was countered so easily until 3.0 came out. This will also help open a tunnel into South Korean WoW so maybe we'll see some more stars come out of this.
Next week I'll delve further into the teams and discuss Evil Geniuses storied past.